AVALONROCKS Newsline


Laatste bijdrage in het AVALONROCKS gastenboek:

Last updated 29-01-2012
Videology section added (vai Media in the menu bar) and some minor other udpates

---



Hallo,
Via deze weg willen wij iedereen bedanken die zaterdag 10 november 2007 bij het afscheidsconcert waren
en dit, voor ons, tot een onvergetelijke avond hebben gemaakt.
Het was een waardig afscheid.

Bedankt,
AVALON.

---
Eerste foto's AVALON afscheidsconcert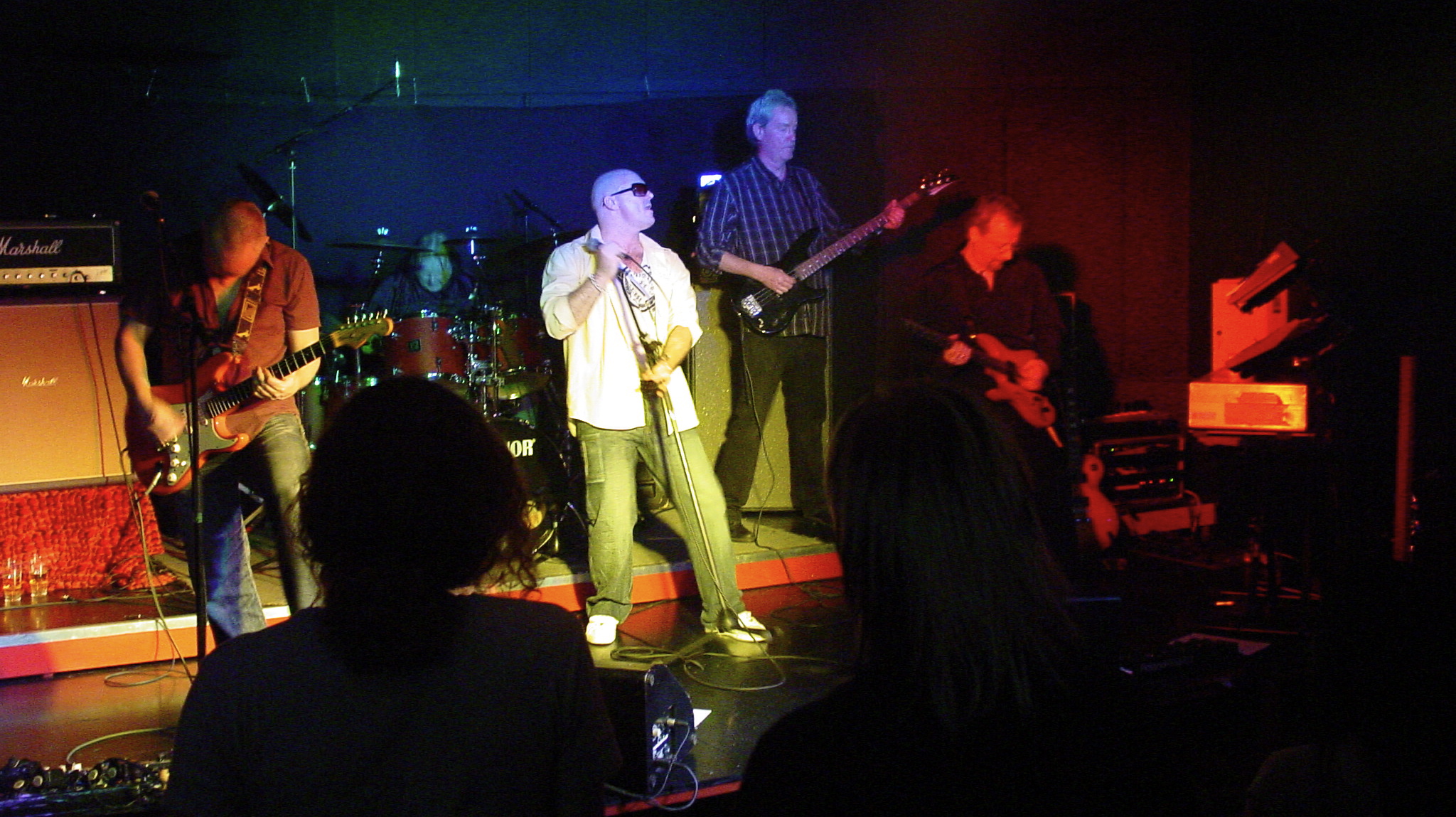 ---



10 November; 20:00 uur
De Boerderij, Geleen.
Hofstraat 30, Geleen, Limburg

Set-list
Necronomicon
Prophets In Disguise
Can't Take My Eyes Of Of You
The Ancient (part I)
Dancer In The Eye Of The Storm
Corwins Defeat
Perfect Illusions
It Aint Easy
Voyager (Gamma)
Cool Runner
Angel Of Eternity
Hard Lovin Man
Necronomicon


---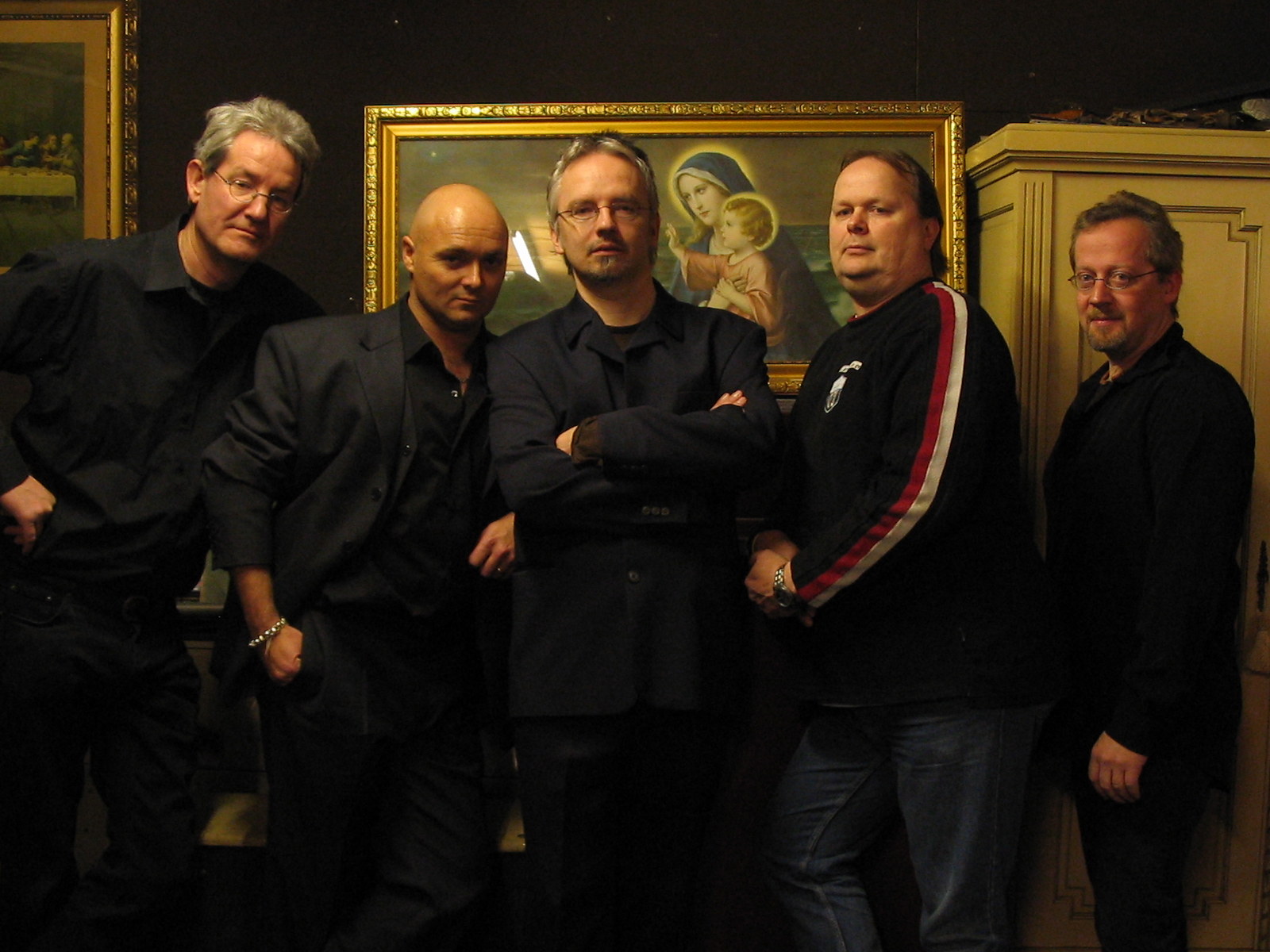 AVALON XI vlnr : Jan van Dinteren - Bass, Richard Muermans - vocals, Jack Pisters - guitar, Jax Kraal - drums, Maarten Huiskamp - guitar + keyboards
---
Check this out: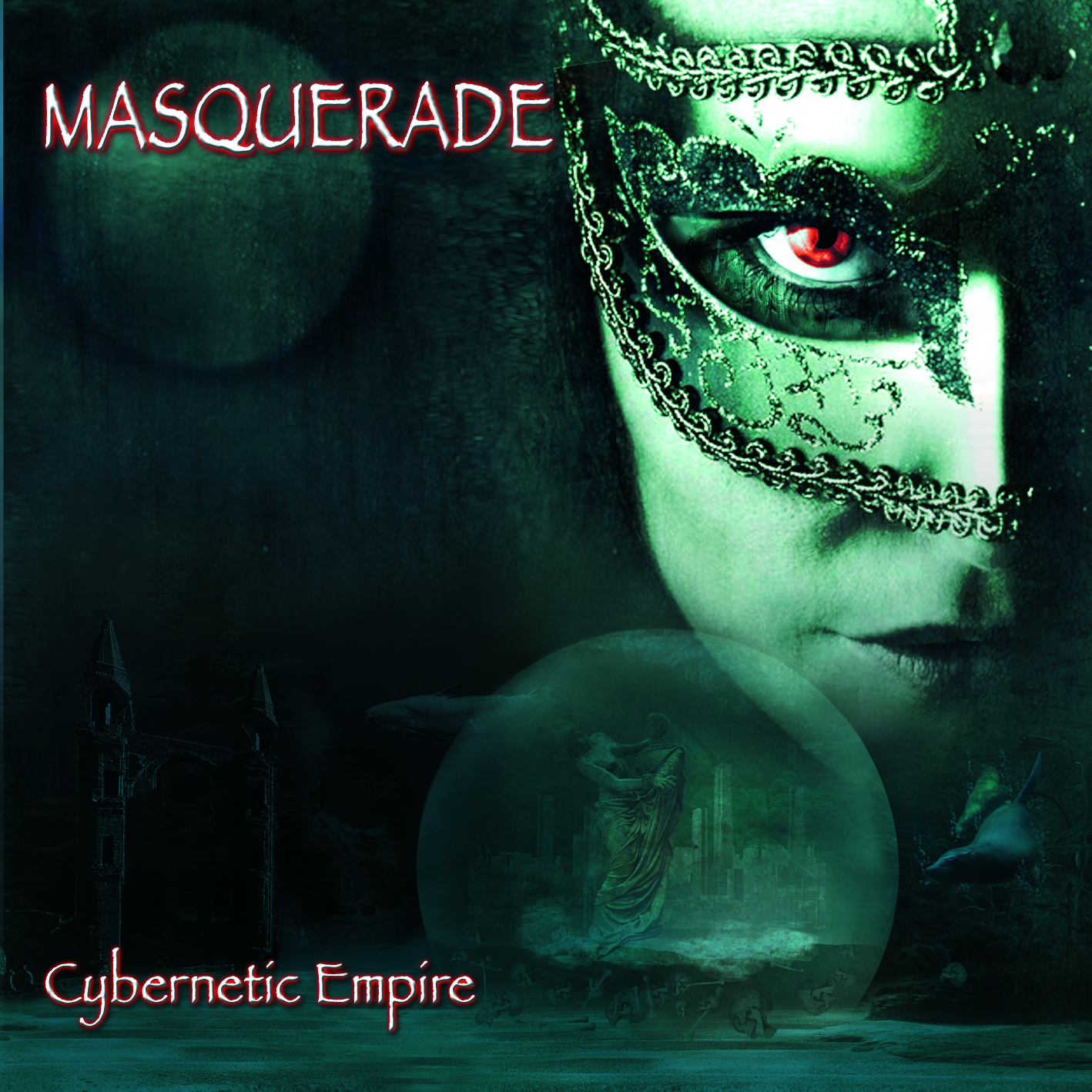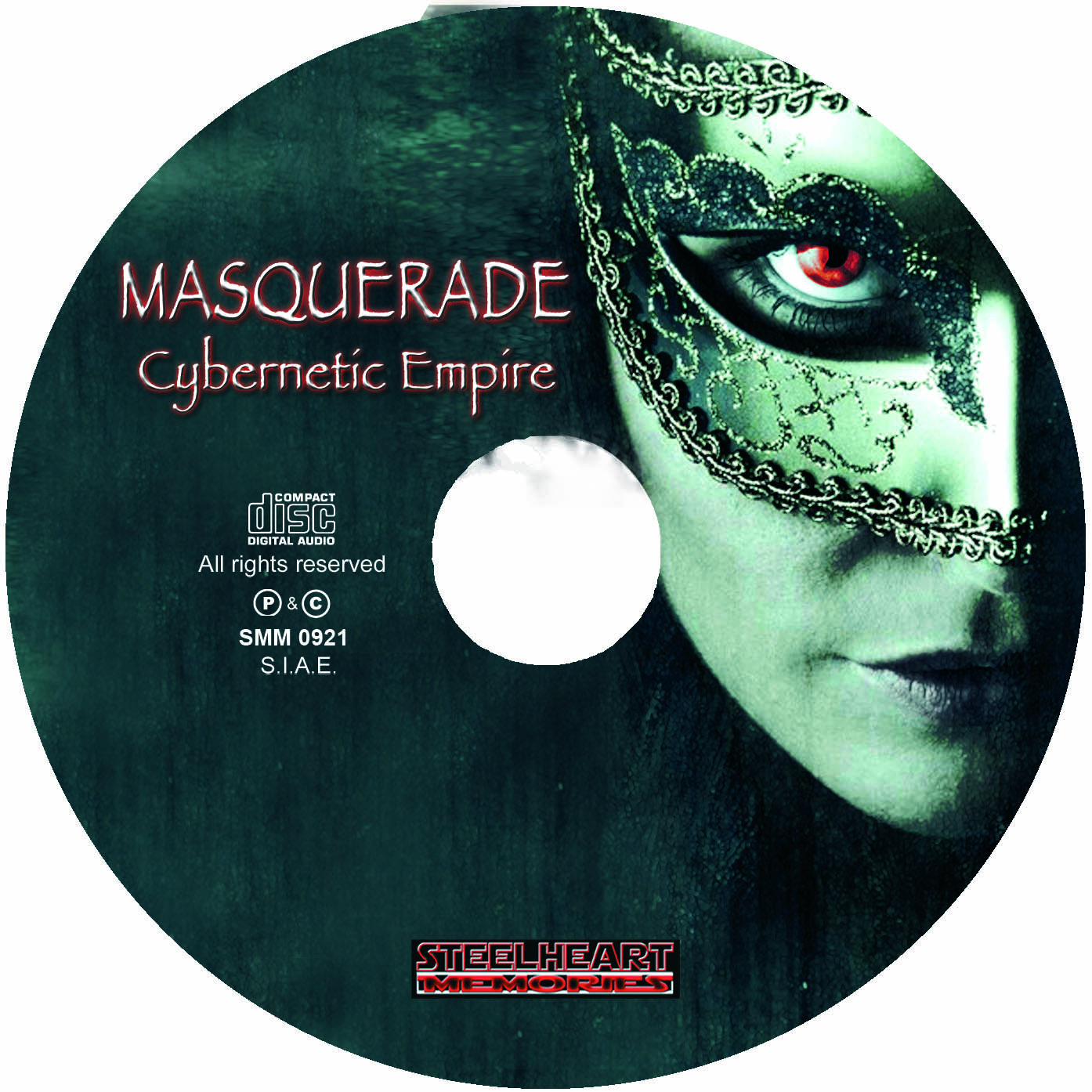 ---


---
---

"He,"zullen veel mensen denken,"informatie over AVALON."

Het is inmiddels enige jaren geleden dat de Nederlandse Hard Rock sensatie AVALON bekendheid begon te krijgen.
Ik was behoorlijk onder de indruk van de talenten die in deze band waren verenigd, en het potentieel om een band van klasse, zo niet wereld-klasse te kunnen worden.
Hierdoor ben ik o.a. ook actief geweest in de fanclub die ze destijds al hadden."The Gun's of AVALON".
Het was begin 2005 toen ik weer eens de mini-lp "The Third Move" en nog wat cassette's met opnames van AVALON opzette, waardoor ik op het internet op zoek ging naar de band en de(oud) leden van AVALON.
Helaas waren de resultaten daarvan nou niet overweldigend.
Dus ben ik zelf maar eens in mijn archieven gedoken, en heb daar nu e.e.a. van op het net gezet.

Met dank aan Jack Pisters, Jax Kraal, Maarten Huiskamp, Eric Fox, Richard Muermans, Giovanni Pileri, Jan van Dinteren en Noud Smeets voor de medewerking, de informatie, de correctie's, een deel van het beeldmateriaal, en uiteraard voor de inspiratie.


--> Please contact me with additional information and/or corrections!<--

Stuur de webmaster een e-mail emile + mai dobbelstein samutnoi Of teken het Gastenboek van AVALONROCKS

---
---
Favoriete AVALON nummers (2).

Welke nummers van AVALON zijn jullie favoreit(en)?
Arabesque
Angle of eternity
the Ancient (Chapter I)
Boulevard of Broken Dreams
Can't take my eyes of of you
Corwin's Defeat
Cool runner
Courts of Chaos
Dancer in the eye of the storm
Goliath's Hide
Gun's of Avalon
Hard lovin Man
Hold up at Helms deep
It ain's Easy
Just call me Conrad
Lost in Time
Machines of Hades
Morgana La Fay
Mirror of Gabriel
Moving Targets
Mountain of Doom
Millenium Falcon
Necronomicon
Play it Loud
Perfect Illusions
Paradox Man
Profets in disguise
Real Time Hero
the Road to AVALON
Search for the Paragon (aka The Ancient 2)
Shadow Jack
SWF
The Joker
---
De vorige poll is off-line gehaald aangezien er uitgebereid is met meer nummers uit het rijke AVALON reportoire.

Hier onder het resultaat van de eerste stem ronde: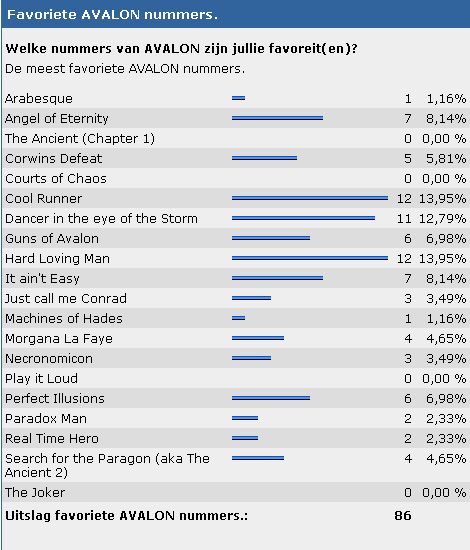 ---
---
---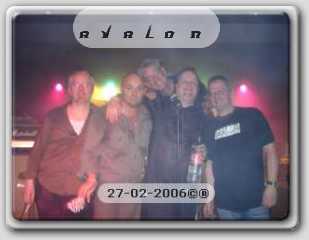 The Grumpy Old Men aka AVALON XI
---
AVALON III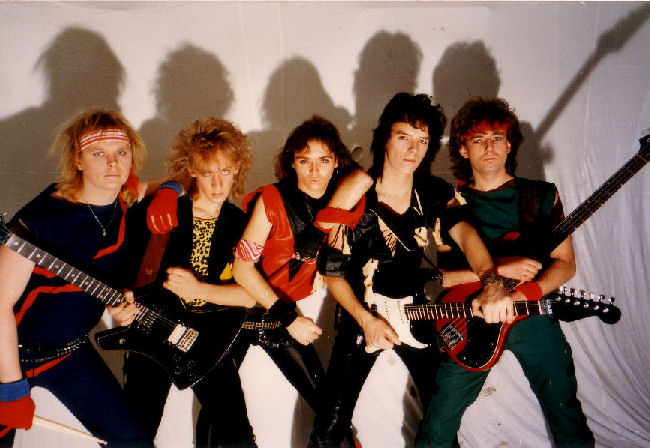 AVALON III


© COPYRIGHT 2005-2012 ALL RIGHTS RESERVED familiedobbelstein.nl + AVALON
Een bijdrage in ons eigen Gastenboek Familie Dobbelstein
is natuurlijk ook welkom.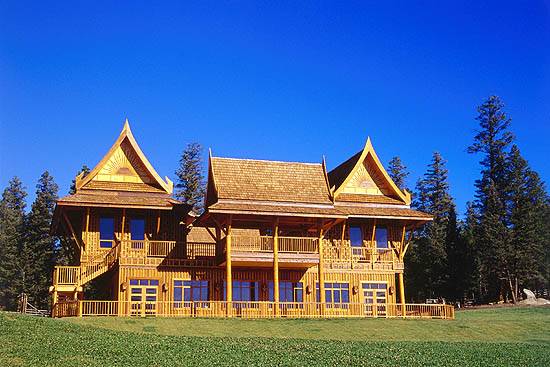 Terug naar onze startpagina van De Familie Dobbelstein